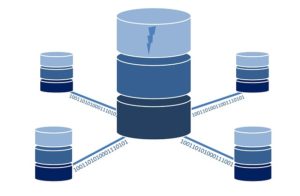 Cyber security is an increasingly sensitive issue, both for large companies and small businesses. Recent ransomware attacks have shown how exposed digital data is, and how much its loss impacts companies and people. Truly, one of the most valuable assets any business owns are not material ones, but digital: the information stored in your company computers and servers.
Just imagine losing all your customers' data, the proprietary business processes you developed, the login data to various software solutions and online resources (including your social media and email accounts). It is the kind of loss which effectively paralyzes your activity.
Many small business owners fell victim to ransomware attacks and, even though they finally caved in and paid the demanded amount, they never regained all the data held hostage. Moreover, such an attack proved fatal to many start-ups, which were forced to shut down.
There is a simple solution to protect your company data: cloud storage. This service offers you secure storage space on high-performing servers, which are protected against hacking by the most advanced cyber security solutions. To help you choose the best solution for your small business, we prepared a list of the most secure and affordable cloud storage solutions available.
1. Dropbox
Dropbox has been around for years and is one of the most trusted and secure cloud storage solutions. You can test their service with a free account which offers 2 GB of storage space, or you can opt for a personal account which offers you 1 TB (that's 1000 GB) of storage space for $8.25 per month.
The business account has a monthly fee of $12.50 per user and offers:
⦁ Unlimited storage
⦁ 3rd party integration options
⦁ 2-step verification and 2-factor authentication
⦁ Mobile app
⦁ Local file system synchronization
⦁ SSL encryption
Dropbox has a very simple and user-friendly interface, making it the top choice for people who are not very tech savvy.
2. Google Drive
Google needs no introduction – its reputation obliges them to provide users with top-notch services. Google Drive is more than a secure cloud storage solution. It comes paired with a SaaS (software as a service) solution formerly known as Google Docs, which allows you to open files stored in Drive even if you do not have the software used to create them (such as Microsoft Word, Adobe Acrobat, etc.) installed on your computer.
Google Drives offers 15 GB of storage space for free. Other storage sizes are priced at :
⦁ $1.99 per month for 100 GB
⦁ $9.99 per month for 1 TB
⦁ $99.99 per month for 10 TB
⦁ $199.99 per month for 20 TB
3. MozyPro
This cloud storage solution for small businesses is the ideal choice if you want to forget about the worry of performing back-ups and synchronization. MozyPro does that automatically, retrieving files from servers, desktop computers and laptops running on either Windows or Mac OS. MozyPro is even compatible with specialized Microsoft server applications such as Exchange and SQL.
You can test the capabilities of MozyPro for 30 days for free. The monthly fee is $40 for 100 GB of storage for an unlimited number of computers, and an additional $12.99 per month for servers.
4. Egnyte
This complex cloud storage and collaboration solution offers state-of-the-art protection for your data and allows you to share documents both with your team members and with people outside your business organization. Egnyte is equipped with Microsoft Office 365 (the online version of the Office suite) and offers third party integration for other business tools you use (Salesforce, for example). Speaking of security, Egnyte is SOC and ISO 27001 compliant and offers support even for the Health Insurance Portability and Accountability Act (HIPAA).
Pricing starts at $8 per month per user.
5. Microsoft OneDrive
Microsoft has a solid and secure cloud data backup and storage service with advanced encryption and various security features, both for personal use and for businesses. If you want to try before you buy, you can sign up for the personal OneDrive Basic plan which offers 5 GB storage space, without any other collaboration and document editing capabilities.
You can choose from the following business plans:
⦁ $60 per year for 1 TB – standard storage and security;
⦁ $120 per year for 1 TB – advanced security and compliance features;
⦁ $150 per year for 1 TB – includes Office 365.