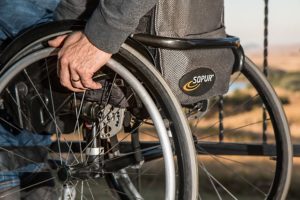 Although we want to believe that we are all created equal, some of us face more challenges in life than others. People with various disabilities have to face a double challenge: they have to prove both their professionalism and their physical capacity to perform various tasks.
For some professionals, getting out of the house and traveling to an office job is either impossible or extremely exhausting. However, they do want to put their skills and talents to work and to demonstrate that their disabilities do not define them, rather they are just another challenge to overcome. Most of these people decide to open a home-based business if they cannot find a work-from-home job.
Today we want to celebrate these fighters who inspire us every day. And, in order to do so, we want to share the best home business ideas for anyone out there dealing with a disability. If you want to be an independent professional, you can do it. You simply have to pick a business niche which allows you to work in comfort and within your physical limitations.
These are our top five picks:
1. Consulting
Whether you are a tax advisor or a business risk specialist, disability should not affect you helping businesses prosper and earn a fair income for you and your family. Thanks to the technological advancements we all enjoy, you can continue practicing your profession from home.
High-speed mobile internet and smartphones with frontal video cameras allow you to conduct business meetings from the comfort of your home. Secure cloud storage services enable you to receive confidential documents from your customers and lightweight notebook computers help you prepare your reports and other documents you need in your work.
2. Online Motivational Speaker
This type of home-based business is not only beneficial to your clients, but cathartic for yourself. In teaching others how to overcome their own limitations, you will continually improve your self-esteem and feeling of self-worth.
Many people who are struck down by illness or a sudden accident need a source of hope and inspiration to move on with their lives. Your example will motivate them and you will feel their gratitude in more ways than just by financial compensation for your services.
3. Pet Sitting
If you don't mind having dogs or cats around your house and looking after them, then you can be an excellent pet sitter. Spending time with animals is proven to be beneficial for people with various disabilities. Animals have a strong sense of empathy and they can uplift your spirits when you feel down. Being able to give back by looking after them makes it a full circle of goodness and gratitude – and it brings you a significant side income, as well.
4. Mystery Shopper
As a mystery shopper, you will test the way the sales assistants in a store treat their customers, even difficult ones. Also, you will certainly be asked to indicate how friendly the store design and the staff are with people with your specific disability. In this way, besides making money, you help improve shopping conditions for everyone.
5. Writer
With the aid of speech-to-text computer software, even visually impaired people can use their talent at writing and become freelance writers. There are plenty of opportunities for skilled writers, from general blog writing to specialized SEO and business writing. All you need to do is identify the writing niche you are good at and even add more writing skills on the go.
As a final tip, you should be aware of all the tax exemptions you are eligible for in your state for your specific disability. This could mean saving hundreds, if not thousands, of dollars every year from your income tax.