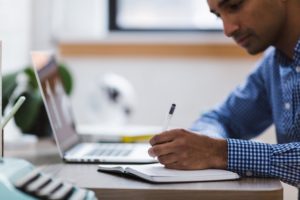 Let's face it: not everyone imagines that their small home-based business will outgrow their home and they local community. That's why a name such as 'Quick Hand Joe Home Improvements' sounds adequate and even charming for your specific market. But what happens when your successful business starts growing and expanding? What if you want to add more services or develop more products? The first consequence is that your business name becomes obsolete or no longer appropriate.
"Well then, I'll change my business name!" That's easier said than done. Changing your business name has many implications – legal, banking, taxation and marketing. Many small businesses flop at the point of outgrowing their local community because they fail to communicate and promote the change properly to their existing customer base.
However, the main concern we will focus on in this article is making sure that you go by the book in relation to authorities and banks when you decided to change your business name. Here are the key steps you must go through:
1. Research Your Business Name
First things first, you must make sure that you can legally use the new business name – that it is not already used by another legal entity or subject to trademarks or other patents. You should perform this research both with your state and the federal trademark offices.
2. Change the Articles of Incorporation
Except for sole proprietorship, all forms of incorporations require this document – the Articles of Incorporation. Basically, this is where you set out the full description of your business: its name, the object of activity, the associates and their proportional participations to the share capital, etc.
In order to update the Articles of Incorporation with the new business name, you need to notify the Secretary of State in your jurisdiction. The entire procedure is hassle-free, you can do it online.
3. Notify the IRS of the New Business Name
The Internal Revenue Service has a very helpful web page which instructs you what types to forms you need to file, depending on the form of incorporation of your business. There are typically two types of procedures:
⦁ For a sole proprietorship or LLC with only one associate, you simply send a written notification to the IRS;
⦁ For S corporations and partnerships there are specific forms to be filled in, which can be submitted either at the same time as the tax return or at a specific moment when you want the name change to take effect.
Please note that in certain situations you may need a new EIN number.
4. Update Your Business Licenses and Permits
Once you have your new business name cleared and approved by state authorities, it is time to start updating your business permits. Depending on your industry and niche, you need a specific number of permits from various authorities. This usually involves notifying the offices which issued these documents of the new business name, accompanied by supporting documents.
5. Change Your Business Name Everywhere
You have no idea how many online and printed documents contain your business name at first sight! Contracts, marketing materials, social media and email accounts, stationery, business listings…all these need to be updated with your new business name. This is actually the most time-consuming and laborious part of the process, but it is extremely necessary: you want your old business name replaced everywhere with the new one in order not to confuse your customers.
Last, but not least, remember to start communicating this change to your customers ahead of time so that when the change takes place they can still recognize you and continue to do business with you.