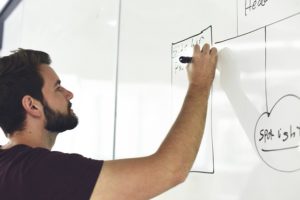 Entrepreneurship evolves with the times and so does the set of desired skills any entrepreneur needs to have. Decades ago it was all about dogged determination and putting in as many man hours as possible in your business. Technology now helps us work smarter and focus our efforts on innovative thinking.
The internet and the smartphone have created the digital revolution which has changed the way people look at businesses and the expectations they have. At the same time, the change also propagated within organizations – from large corporations to small businesses. The boss type who barks orders was replaced by the leader who manages by collaboration and motivation.
Today's discussion focuses around the specific set of skills that you should work on if you want to be a successful entrepreneur in this day and age. It does not mean that your current skills are not useful anymore – it just means that you need to consider polishing these ones.
1. Empathy
As we mentioned above, leadership has changed. It is not about the boss who rules with an iron fist anymore. Successful managers are great communicators and collaborators and they have empathy for their team. Your employees are not robots, programmed to perform a task, but people with feelings, with good days and bad days, with health and personal problems.
An emphatic entrepreneur can help each employee become a top performer by listening to them, advising and coaching them, and allowing them to grow in the company, even if this means making a mistake or two.
2. Focusing on Your Strength
Let's be honest, nobody can master every single skill required in a certain job role – and that of entrepreneur is the most demanding role. For years and years, many entrepreneurs worked hard, missed opportunities and lost their enthusiasm while trying to correct or improve their shortcomings. None of them achieved a satisfactory result in the end.
Right now, there is a shift in the paradigm: instead of working on your weak points, focus on your strong points and be the best at them. The Jack-of-all-trades entrepreneur is not a feasible idea. Instead, hone your core skills and strengths and own them like a true leader.
3. Networking and Relationship Building
We live in a connected world in every sense of the word. No one can succeed on their own, no matter how skilled they are. Entrepreneurial success is the result of teamwork and collaboration these days. No matter what products and services you want to develop and sell, you will always depend on others: suppliers and vendors, peers to vouch for your business idea, partners to add talent and value to your business, and loyal customers to become brand ambassadors.
Knowing how to cultivate and build relationships with others is now a key skill in any line of business and at any level: from the mom-and-pop store, to the multinational corporation.
4. Consumer Focus
The economy we live in now is consumer centric. The consumer, the client, is at the heart of any product development and launch, and any marketing message. People have a wide range of choices for any product or service you can think of. Nobody owns a specific niche, no matter how precisely defined. Competition is everywhere. Therefore the old school slogan that a product sells itself is outdated.
You must always be able to put yourself in the consumer's shoes whenever you want to write a piece of content, create an ad campaign and, most importantly, develop a product. Only this approach will help you create products and marketing messages which will attract and persuade your customers.
5. Personal Branding
Brands go beyond businesses. Entrepreneurs and top managers need to build and protect their own personal brands. This is reflected in your online activity, your social media accounts, the way you interact with your business partners and peers and, in the end, reflects back on your business and your products.
A strong and positive personal brand is a valuable asset for any business. It is the guarantee that there is an actual person behind the business name, able and willing to vouch for all the promises the business makes to its customers.