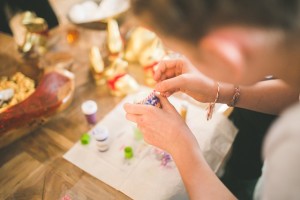 If you are skilled at creating handmade items, you can turn this hobby into a source of income by selling your products through various online channels. This is a recommended path to follow if you are not prepared to give up your job and become a full-time entrepreneur. A lot of people get some extra money to fund their vacations or hobbies in this manner and they say it is a win-win situation: they enjoy what they are doing without the pressure of turning it into a job, and they make some money too.
Today we will discuss the ways in which you can sell your handmade goods online in the most profitable manner. The issue is that there are a lot of websites where people can post items for sale, but not all of these websites are recommended for handmade items. For instance, you may be tempted to post your goods on eBay. However, people who buy from eBay mostly seek bargains, vintage and second-hand items. They will consider your items too pricey and will not appreciate the time and care it took to create them.
That being said, these are the top 6 online websites where you should post your handmade goods for sale:
1. Etsy
Etsy is without doubt the largest online marketplace for handmade items. Featuring 400,000 merchants and growing, it is a very crowded place for you to display your wares. However, considering the huge traffic it gets you will not be left out, especially if you set up a great looking online shop.
The biggest pros for Etsy we can think of are the freedom they give you in customizing your online shop and displaying your products, and the low commission they take from each sale you make.
2. ArtFire
The second largest online platform for selling handmade items offers a variety of tools for sellers to set up and customize their online shop. Also, if you already have an online store you can easily import your products into the ArtFire shop.
ArtFire, however, is not anywhere close to Etsy in terms of daily traffic. Instead of a commission per sale, you also have to pay a monthly fee for the membership; so, even if you do not make any sales, you still have to pay.
3. DaWanda
Based in Europe, and with only a few US merchants, DaWanda is a great option if you are unable to fit in among crowded US-only websites. There are currently over 1 million items for sale on DaWanda, but they also include vintage products.
DaWanda has learned its social media lesson well and offers merchants by default the Facebook 'Like' button and the Twitter sharing option, which is a great way to promote your wares.
4. iCraft
Canadian website iCraft is specifically dedicated to handcrafted items. The website owners will review your products before approval and offer you suggestions for improvement to have better chances of selling them.
The downside of iCraft is the drop-down box for navigating through the categories, which can prove quite a challenge, especially on mobile devices.
5. Bonanza
Dubbed "the alternative to Etsy", this website offers free listings and charges small fees for the sales you make through them. They also offer live online chats with their consultants to help you set up your shop, online tools for editing your product photos, and a good affiliate program for people who may be interested to promote various products, including yours.
6. Made It Myself (MIM)
If you want to take advantage of the first wave of awareness after the launch of a new platform, you should join MIM. The website is still in the beta phase, but it is gaining more popularity day by day.